WOODY ISLAND DAY TOUR ADVENTURE
FERRY TRANSFER & DAY VISIT TO WOODY ISLAND
(Monday to Sunday)
Departure: 9:00AM
Arrive back in Esperance: approx. 2:00PM
Estimated travel time: 60 minutes to Woody Island, 40 min return
Vessel capacity: 48 seats
Availability subject to weather – Minimum numbers required
---
Start your Woody Island Adventure with a 60 minute ferry ride showcasing our favourite spots, with a chance to see White Bellied Sea Eagles, dolphins, sea lions and seals at play. Upon arrival on the island, enjoy morning tea on the deck of our visitor's centre looking out over Shearwater Bay.
Stretch your legs with an informative guided walking tour, learn about the history while discovering the local wildlife on our unique Nature Reserve.
Snorkel with the abundant marine life in our bay
Try your hand at fishing off our jetty
Or just sit back and relax, unwind and take in our views
Cap-off your Woody Island Adventure with a refreshing drink at Black Jacks Bar (fully licensed) or a bite to eat from the waterfront kiosk.
---
PRICING
Includes: Island Day Tour (return), Guided Walk & Morning Tea
Adults – $130
Adult Concession (with valid card) – $105
School Student (13-17 years old) - $90
Children (2-12 years old) – $65
Infants (< 2 years) – Free
Family (2x Adults & 2x Children <13yrs) - $320
Campers Transfer excludes Island Day Tour & Morning Tea
Adult Campers (Discounted) - $110
One Way - $65
Alternatively, you can book direct from our office located inside:
Comfort Inn Bay of Isles
32 The Esplanade, Esperance
or by phoning: 0484 327 580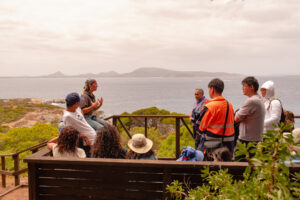 ADDITIONAL TRAVEL INFORMATION
WOODY ISLAND DEPARTURE LOCATION
Taylor Street Jetty
ESPERANCE 6450
WESTERN AUSTRALIA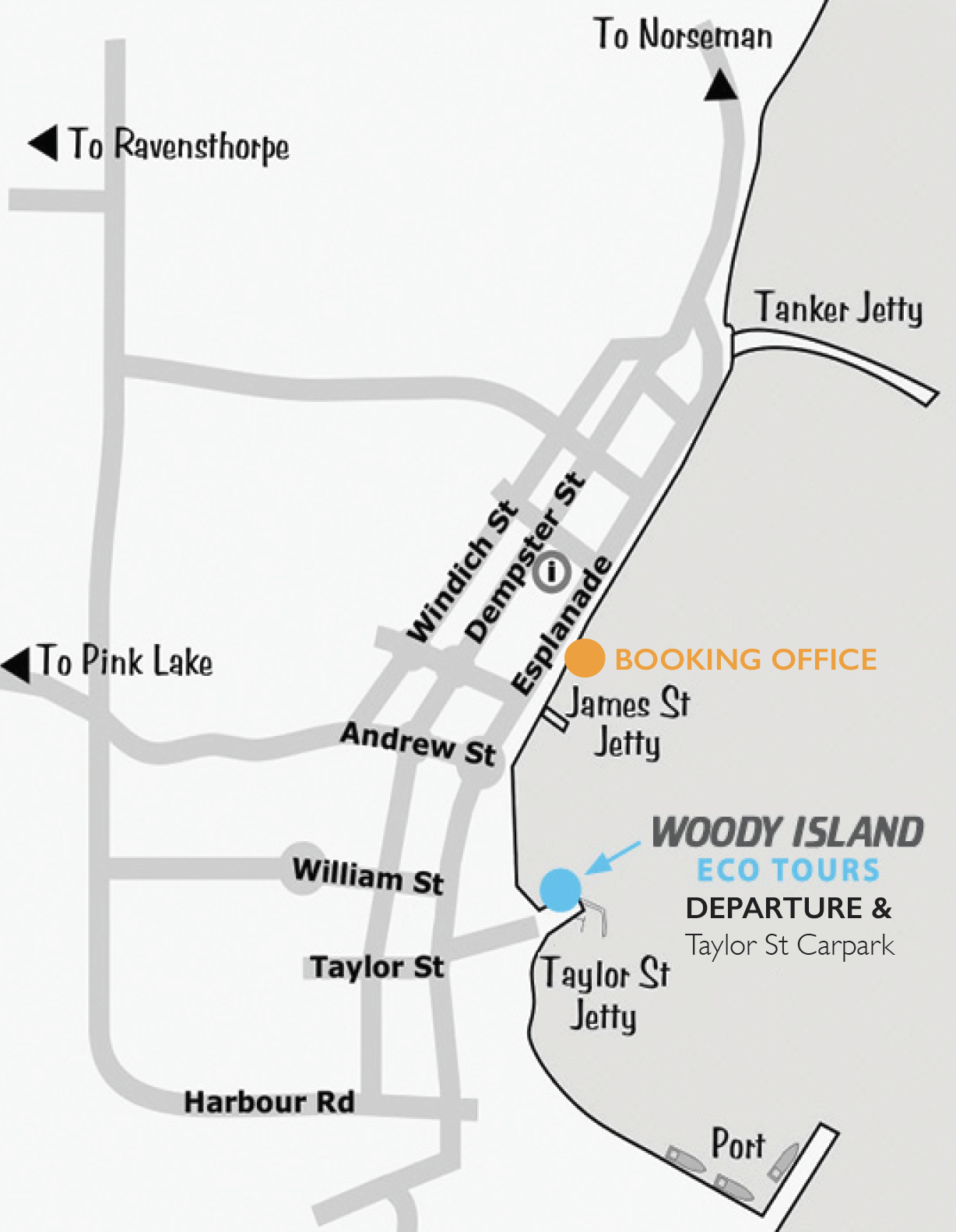 PARKING
Woody Island Eco Tours suggests you park your car on Taylor Street or the Esplanade. Don't leave any valuables inside.
CHECK-IN & BOARDING
Please check-in 15-20 minutes prior to your scheduled departure.
On arrival at the boat, please proceed to the check-in and board with your surname.
The crew are there to assist with storing of luggage and boarding the boat. Please let us know how we can assist you.
LUGGAGE
All luggage and personal items are transported entirely at the risk of the ticket holder. We will always take the utmost care with your belongings, but as we cannot inspect the condition or the method of packing by the ticket holder we do not accept any liability for damage to any items.
Please be aware that all luggage is handled by hand by Woody Island Eco Tours staff- let us know if you have any fragile items. Please make sure that all luggage and food is stored in zip tight bags or plastic storage containers that are easily carried to avoid damage or goods spilling during transit. Packed Eskies and heavy items must be restricted to a maximum of 30kg due to the manual handling of these items. Items of value should be packed in hand luggage and kept on your person. Woody Island Eco Tours has the right to refuse any excess weight items or incorrectly packaged luggage and accepts no responsibility for damage or loss to luggage carried throughout transit.
We can accept kayaks, paddle boards and other large items with prior arrangement. Woody Island Eco Tours reserves the right to refuse these oversized items, if not arranged beforehand and if no space is available on the ferry.
GENERAL TOUR NOTES
Food & Drinks available to purchase on the island (EFTPOS available)
Wi-Fi available in the Island Visitor Centre
Snorkeling, fishing gear and kayaks available for rental and/or purchase on the island.